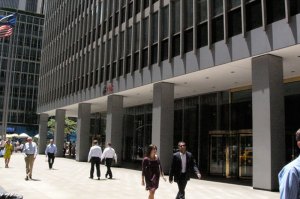 The city had more than a dozen leases of more than 100,000 square feet that were set to expire in 2010, and the fate of each of the top 10 represents various trends in the market. A number of companies, such as law firm Paul Weiss, the National Basketball Association and pharma firm Forest Laboratories Inc., renewed in late 2009, representing tenants' increased confidence in a marketplace that seems to be recovering-at least, that is, if leasing brokers are to be believed.
"Last year, leasing activity was one of the worst in the last decade, which means a lot of pent-up demand," said Robert Martin, vice chairman of Jones Lang LaSalle's New York City brokerage operations, who joined the firm in June from CB Richard Ellis
VIEW SLIDESHOW > THE TOP 10 LEASE EXPIRATIONS OF 2010
Another big tenant, the Gap, decided to move downtown from 620 Avenue of the Americas in order to save on rent, but overall, relocations are down.
"It's expensive to move," said Mr. Martin. In addition to the actual costs of physically moving, there are the soft costs, such as attorney fees, notices of address change and new furniture.
The main reasons to move are a change in business, a desire for a fresh start, an inefficient current building or a lack of renewal rights. Landlords tend to welcome large anchor tenants, particularly in new buildings (such as law firm Proskauer Rose's recent deal at a new tower at 11 Times Square) and may offer incentives such as a few months of free rent, which drives down the overall asking rents.
"Tenants are more comfortable in today's environment," said Aaron Jodka, a senior real estate economist for CoStar Group, which provided the accompanying expiring leases data. "That fear that has gripped the market has dissipated."
But the fate of many spaces on this list is uncertain-particularly for those that are in the financial industry. In the case of Lehman Brothers' old space at 1301-1315 Sixth Avenue, the firm has been swallowed by Barclays, and the old office space may no longer be needed. On the flip side, after Bank of America bought Merrill Lynch in 2008, it opted to renew Merrill's space at 717 Fifth Avenue through 2014.
Goldman Sachs' office space at 1 New York Plaza is the largest on the list, but the firm has new digs on West Street and will likely let the old lease expire.