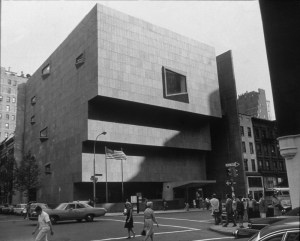 The Whitney Museum of American Art will replace homey with hip at its new downstairs café, set to open this winter. The museum announced this morning that it has selected the Rockwell Group to design the restaurant, which will be operated by the tasty but omnipresent Danny Meyer's Union Square Hospitality Group.
The announcement comes at an interesting time for the Whitney, which is in the process of transitioning to a new downtown location (targeted opening: 2015) at the entrance to the High Line in the Meatpacking District. Although the museum has yet to make a formal announcement about what will become of its Upper East Side building, the promise of a new café suggests that the Whitney may maintain some kind of involvement with the space.
Rockwell is responsible for projects as disparate as the set design for the 2010 Academy Awards and the central Marketplace of the JetBlue terminal at JFK airport. Perhaps more relevant, the firm designed Nobu restaurants worldwide and Maialino at the Gramercy Park Hotel. The Whitney promised in a statement that the café would "blend harmoniously with the Museum's renowned Marcel Breuer architecture."
The new restaurant will replace the brunchaholic's Sarabeth's, which had partnered with the Whitney for more than 20 years before closing in January, no longer able to handle the large-scale catering needs of the museum.