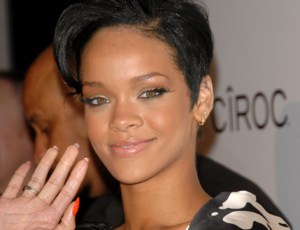 Sometimes while perusing your assembled and well-honed RSS reader in the morning hours, a theme appears. And with that in mind, call today Crossover Tuesday.
It starts, as things often do, with Rihanna. The multi-platinum "Rude Boy" singer has decided on her first film role: Battleship. And if you're wondering: Yes, that is the same Battleship that you played as a kid. As in, this movie is an adaptation of a board game. Though in this case there are aliens and two television icons: Eric Northman from True Blood and Tim Riggins from Friday Night Lights (Alexander Skarsgard and Taylor Kitsch, respectively). If they can find a way to toss in Taylor Lautner, the Peter Berg film will have enough torsos to fill Hollywood's shirtless quota for the next decade.
But wait, there's more: AMC announced this morning that rapper-turned-actor Common will be fronting one of their new series. He'll star in Hell on Wheels, a western all about the building of the Transcontenental Railroad. Common will play a mixed race escaped slave who "does not completely belong in either world." Exciting! Of course with Don Draper and Walt White already at the network — and the promising Rubicon plus Walking Dead coming up — he'll have some big shoes to fill.
Finally, lest you think it's only music industry stars infringing on the movies, there's Terry Gilliam. The sometimes-acclaimed director has agreed to film Arcade Fire's Aug. 5 concert at Madison Square Garden. Knowing Gilliam, expect things to be overly long, quite obtuse and wrought with behind-the-scenes problems. Also, don't rule out a cameo from Johnny Depp.