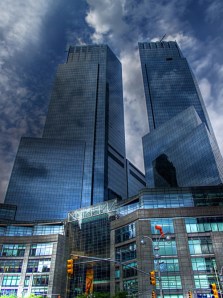 On the heels of a city press conference yesterday declaring war on bedbugs—a war that seems more PR- than policy-driven—Curbed reports that the Time Warner Center is the latest skyscraper to suffer a bedbug scare, and has the memo to prove it!
The memo, sent by the complex's property manager to her staff, reads, in part:
As you might already be aware, a minor bed bug condition was discovered at our 55th Street offices.

As a precautionary measure, we have engaged an exterminator to conduct an investigation on the, 18th, 19th, and 20th floors at 60 Columbus tonight beginning at approximately 6:30pm. The primary method for detection is a trained canine who will be accompanied by a handler as well as a Related employee. So, please do not be alarmed if you should see them walking the floors.
Don't be alarmed, indeed.
Read the whole story here.