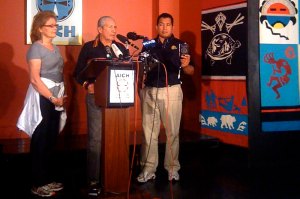 Chief Oren Lyons, of the Onondaga nation, is not surprised that once again his people have run into bureaucratic snafus from the U.S. government.
"The Onondaga have the first treaty with the United States," he said. "This is nothing new. We've been around a long time."
In addition to acting as faithkeeper and Chief of one of the six Indian nations that make up the Iroquois Confederacy, Mr. Lyons is also the Chairman of the Iroquois National lacrosse team. The team has been grounded in New York since Monday, unable to travel to England for the International Lacrosse Championship games, because of security concerns surrounding their documentation.
The sovereign passports, which are issued by the Confederacy, may look suspect because of their hand-lettering and old-fashioned paper, but Native Americans have been using them for travel since the 1970's, according to Mr. Lyons.
"They're full of stamps, and re-entries," he said. "Why this came up at the last minute, we have no idea."
Under federal law, originating from the 2004 Intelligence Reform and Terrorism Prevention Act, the sovereign passports may no longer fall under the heading of "acceptable."
But the U.S. State Department agreed today, after a three-day delay, to allow the team to travel to the UK for the championship games, using a "one-time waiver" for travel. The State Department still has not officially recognized the sovereign passports, but originally offered to grant the team members expedited U.S. passports for travel instead. The team refused this offer, saying it would undermine their national identity.
"The easy way out definitely would have been to take the [U.S.] passport that was offered to us by the State Department," said Percy Abrams, the Executive Director of the team. "This is our nationality. When we go to England, and when we present our credentials at the players' table, we're laying down the Haudenosaunee passport."
Now, according to Mr. Lyons, the UK has refused to accept the waiver, and the team has yet to take off for Manchester. They are scheduled to play at 7 pm tomorrow, for the first match in the championship, but it's unlikely that the game will now take place.
Each day the team has remained in New York has cost them $25,000 Mr. Lyons estimated – for food, housing, and other fees. The lacrosse players have also lost precious training time, while their opponents have spent these days gearing up on practice fields in Manchester.
"Our team has been under high stress," said Lyons. "This is not the best preparation for a world tournament. They've been good statespeople. They've kept themselves in good shape and good condition."