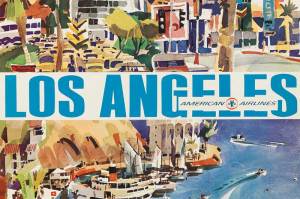 A generation or two ago, the windows of most travel agencies or airline offices were lined, top to bottom, with tempting images of faraway places designed to lure the would-be traveler inside. But since the invention or widespread acceptance of television, glossy magazines and later the Internet, travel posters have been on the decline. Airlines, railroads, hotels and tourist boards found they could rely on flashier sources of advertising and stopped hiring artists to create paper windows to coveted destinations. Now those posters have turned into a historical record of their times-and into art.
On Aug. 4, Swann will auction off more than 400 posters, many of them travel images. This summer sale came about when the company realized it could expand on its annual winter success at selling ski-resort posters, said Glen Lowry, head of the company's poster division. (Ski posters for the Sun Valley Resort, a place essentially fabricated by a railroad company in the 1930s, were particularly popular.) The posters for sale next week mainly depict beachy, summer escapes: Bermuda, Los Angeles and Hawaii, for instance, are peopled with tan, happy vacationers exercising or relaxing on sandy, umbrella-shaded shores.
Travel posters related to golf and surfing are among the biggest sellers, given the popularity of those sports, but the real deals are in the colorful airline advertisements. An American Airlines poster, circa 1960, sells the viewer on Los Angeles with all its cluttered, cosmopolitan splendor and nearby ocean (suggested bid: $400), and a British Air poster depicting Bermuda shows off the candy-colored carriages that once dotted the island ($600).
One United Airlines poster, featuring Hawaii and three adventurous kayakers, subtly includes a small representation of Diamond Head, an outcropping on the island near Honolulu. That kind of understated detail will set a poster apart, said Mr. Lowry. It's estimated at $800, with its designer unknown.
How to choose? Typically, travel-poster collectors will pick a location for personal reasons: One took a honeymoon there, or another's dad worked at the airline featured in the poster. But many bidders, surprisingly, don't travel far from home. Mr. Lowry said their best seller is images of New York.