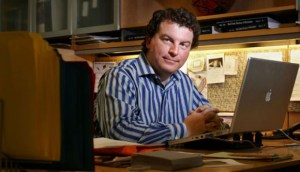 Second-quarter housing numbers for Manhattan dropped this morning, and we caught up with appraisal ace Jonathan Miller, CEO and president of Miller Samuel and author of Prudential Douglas Elliman's report. Guess what? There's a shift in the market—and a good one, if you're a condo developer or a condo seller.
While the number of overall sales climbed in the second quarter ending June 30 to a pre-meltdown level, constituting a return to "historic norms," according to the Douglas Elliman report, what's new is that sales of condominiums now outpace sales of co-ops by a significant margin. That's no small feat, given that co-ops far outnumber condos in Manhattan, and have done so since at least the 1980s.
According to Mr. Miller, the report's author, condo dominance is here to stay.
Condos, which are more expensive than co-ops and therefore more attractive to developers, outsold co-ops in 2009 as well. During last year's second quarter, 804 condos were sold, compared to 728 co-ops, meaning that condos made up 52.5 percent of total apartment sales. In the first quarter of 2010, condos claimed 53.3 percent of apartment sales: 1,273 condos versus 1,111 co-ops. Now, in the second quarter, condos have snagged an astounding 56.3 percent of apartment sales: 1,553 condos versus 1,203 co-ops. That's a 93.2 percent increase in condo sales from last year's second quarter, and a 22 percent increase from this year's first quarter.
Cut through the numbers to the bottom line, and it's a shift, indeed, for Manhattan, one with implications for apartment-hunters. Good-bye, co-op board packages and interviews, for one thing. Hello, relatively greater ease of buying real property instead of shares in a corporation. Enough with the bigger downpayments. Welcome to 10 percent down, or less. Banks must be happy; or scared.
This new condo supremacy, due in large part to developers looking to maximize the price per square foot of all that shiny new construction, is no fluke, Mr. Miller told The Observer. It represents a new "norm."
"I would say that for me 'normal' means that activity levels go up," Mr. Miller said. "Certainly in the last 10 years [the ratio of condos to co-ops] was flip-flopped. But the addition of housing stock in new construction has changed that. Because so much construction was done, it's unlikely it would revert back to that number."
Of owner-inhabited apartments in Manhattan, roughly 75 percent are co-ops and 25 percent are condos. This figure has increased steadily since the 1980s, when 15 percent of owner-inhabited apartments were condos. The past year has seen a particular increase in condo development and sales, but Mr. Miller would hesitate to call that a boom.
"What we've done is come from a very low place in terms of activity and seen a sharp increase in activity," he said. "It doesn't say we're booming. It just says we're consistent with history."
How long will the condo supremacy last? At least until the glut of shadow inventory—unsold condos—sells. Mr. Miller predicted that could take upward of five years, during which time some impatient lenders will convert their units to rentals. But it's difficult to make a precise prediction, he told The Observer: Developers are still building condos, so for the foreseeable future supply will continue to outpace demand.
"It's going to take a number of years for the shadow to be absorbed," he said. "Depending on how you do the math, it could be five, seven years. It isn't a couple of quarters, it isn't a year from now."
When demand finally catches up, prices will rise, but Mr. Miller couldn't say by how much.
"Anything's possible," he said. "You may even see a modest push in prices and a surge in activity. But the general trend over the next couple of years is going to be sideways."
Curbed has a tidy roundup of the housing reports here. And, it should be noted (and isn't noted enough, we think) that the second-quarter reports reflect deals negotiated months before. Therefore, they reflect the market in, say, May better than they do the market in July.