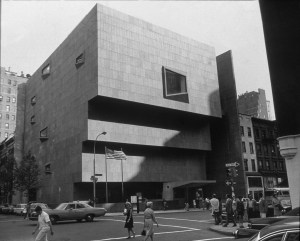 The biggest news of the year in art-world real estate has led to the biggest question mark: Now that the Whitney Museum of American Art is moving downtown, what will happen to its monolithic Upper East Side Marcel Breuer home?
The Art Newspaper asked three experts—former director David Ross, Marcel Breuer Associates architect Terence Riley, and author Michael Gross—what they think should be done with the building.
Ross proposes a logistical nightmare: creating a joint operating committee composed of trustees from the Met, the MoMA, and the Studio Museum in Harlem to produce exhibitions devoted to American art and cultural history. If you ask us, museum bureaucracy moves at a snail's pace already—clogging the pipes even more would all but ensure nothing gets done before 2020.
Riley says the Breuer building was never good at hosting rotating exhibitions because the architecture is too static; He thinks curators should create a permanent installation in the galleries. But whose curators? (We hate to be contrarians, but a permanent installation? Boring!)
Gross, author last year of a bulky tome on the Met, has the most off-the-wall idea. He proposes the museum be transformed into a Museum of Cultural Philanthropy, an institution devoted to telling the story behind New York's great donors.
We're a fan of that idea, but really like blogger C-monster's proposition that the landmark be turned into a nightclub. (Talk about pissing off the neighbors.)

Realistically, though, we're betting on the Met.