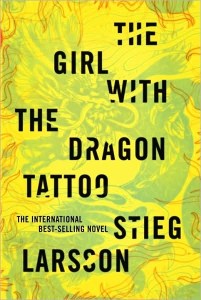 When Stieg Larsson died in 2004, he left behind an unfinished fourth volume of the "Millenium" books, the crime series that began with The Girl With the Dragon Tattoo and went on to achieve posthumous blockbuster status. Only Larsson's partner, Eva Gabrielsson, and his friend John-Henri Holmberg have read the manuscript. Holmberg shared an email from Larsson with the AP:
Holmberg said that Larsson was 320 pages into the fourth book and had planned to complete it by December.

"The plot is set 120 kilometers north of Sachs Harbour, at Banks Island in the month of September," Larsson wrote in the e-mail, which Holmberg made available to The Associated Press. "According to the synopsis it should be 440 pages."

Holmberg, who first met Larsson at a science-fiction convention in the 1970s, said his friend had finished the beginning and the end of the story but had to find another plot for the middle.

"Did you know that 134 people live in Sachs Harbour, whose only contact with the world is a postal plane twice a week when the weather permits?" Larsson wrote. "But there are 48,000 musk-ox and 80 different types of wild flowers that bloom during two weeks in early July, as well as an estimated 1,500 polar bears."
The manuscript is now at the center of a dispute between Gabrielsson and Larsson's family over his estate, and it's unclear what will become of it ("The posthumous completion of an unfinished work is an old publishing tradition," notes the AP, citing Edith Wharton's The Buccaneers). The published trilogy has sold over 30 million copies worldwide.
We don't know how this will play out, but we sure hope the musk-ox figure prominently.