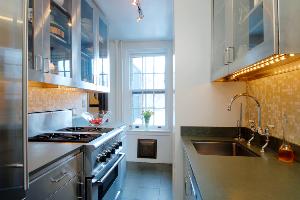 "It's a piece of garbage," a prospective buyer said Sunday as she left an open house at 61 West 9th Street. The co-op, in a prewar Greenwich Village building, is a fixer-upper. Patches of yellow paint have been scraped off the walls, tangles of wire droop from the ceiling, clusters of debris litter the otherwise bare floors. It's a two-bedroom, two-bathroom priced at $1.4 million. Which is just below average.
The second-quarter housing reports, which came out at the start of July, reveal the average price of a Manhattan apartment to be about $1.43 million. That's an increase from last year's second quarter average, roughly $1.31 million. Jonathan Miller, who prepared the Prudential Douglas Elliman report, told The Observer that the higher number reflects an increase not in price per square foot but in the size of apartments sold. "On a per-square-foot basis it's flat," Mr. Miller said. Still, buyers on Sunday found $1.43 million a little pricey. Even if it's "average," one and a half million dollars, as we hoist ourselves out of this recession, remains a lot of money.
"It's a good, bare space to make a home out of," Marion Sussman, 62, said after touring the Greenwich Village apartment. Ms. Sussman, who lives in New Jersey, rode the elevator down to the lobby with her husband and son. She liked the apartment but said the renovations would push it out of her budget.
"I bet it would take at least $500,000 to make it a home," she said. "Maybe more."
Another buyer, 27, who lives on the Upper East Side, and who likes Greenwich Village because "it's cool," agreed. "It needs probably half a million dollars of work, so I don't know if it's worth it," he said. "There's not enough light."
But broker J. Shepard Skiff thought $1.4 million sounded about right. "It obviously needs to be fully renovated," he said. "But it's a top-notch, full-service, prewar building. It's very desirable."
Over in the East Village, broker Terrence Harding showed prospective buyers a pool on the roof of 425 East 13th Street. Bathing suit-clad residents lounged on deck chairs and waded in the shallow water. Mr. Harding said any "average" price is misleading since every apartment is unique. This building, for instance, has "a whole vacation vibe."
Mr. Harding waited near a bank of elevators with Corinne Gillespie, 37, a freelance market researcher who is moving to New York City from Seattle for her husband's job. The East Village is her favorite neighborhood in the borough, she said, and she wants an apartment with space. "I work from home, so I need light," she said. "I don't want to feel like I'm in a box."
Ms. Gillespie and her friend looked at a two-bedroom, two-bathroom condo priced at $1.45 million. She said it was more spacious than the other, cheaper apartments she'd seen in the building. But $1.45 million was just out of her price range, which she said is $900,000 to $1.3 million. That upper limit is firm, and she's taking any refurbishing costs into account.
"For 1.3, it better be a move-in place," she said.
Back on the West Side, in a two-bedroom, one-bathroom co-op at 30 West 15th Street, priced at $1.45 million, broker Aeen A. Avini thought the $1.43 million average was a sign of a return to healthy times. "It's getting sort of back to normal," he said. "It's not like last year when people were jumping off buildings."
Standing in the kitchen of the co-op, he said the apartment wasn't move-in ready. It would "definitely need some work."
Farther north, in a $1.45 million co-op at 28 West 38th Street, broker Lori Zagat McNichol pointed to the ceiling. "Thirteen-foot ceilings—you can't put them in," she said. "You can put in the kitchen, but not ceilings. It's nice to have the space."
She said calculations of square feet misrepresent an apartment's size. The $1.43 million average doesn't take into account cubic feet, which to Ms. McNichol is essential information. The apartment, a former two-bedroom that the current owner has converted to a spacious one-bedroom, has 1,800 square feet of floor space, 13-foot ceilings and 11-foot windows. "It's a dramatic space," she said.
Although they touted the uniqueness of their listings, all brokers interviewed on Sunday believed the average price of a Manhattan apartment was, as Ms. McNichol said, "reasonable."
Continuing uptown, to 425 West 53rd Street, broker Aaron Goed stood in a $1.44 million two-bedroom, two-bathroom condo, which was still under construction. "I think that's good news," he said of the $1.43 million average. "The price was a million not that long ago."
But he said it had been a slow day for the building's open houses. Indeed, around the whole borough, except for Greenwich Village, buyers seemed to be scarce. Are "average" apartments too expensive? Mr. Goed wasn't sure.
"I think the World Cup is keeping people home," he said.