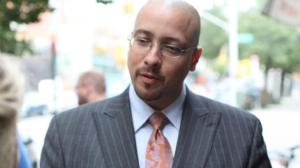 Two big labor unions–1199 SEIU and 32 BJ–issued a joint statement today endorsing Gustavo Rivera, the challenger to state Senator Pedro Espada Jr. in the 33rd Senate district.
"Albany needs leaders who put the interests of working New Yorkers ahead of politics and power plays," 32BJ President Mike Fishman said in the release. "As someone who pledges to uphold the high standards we should expect from our public servants, we are proud to support Gustavo Rivera."
"Gustavo is a friend and a champion of working families," said 1199 SEIU President George Gresham, "we know he will serve the community with honor and distinction."
Rivera managed 1199's field operation for Barack Obama–and he secured the support of the labor-backed Working Families Party last month–so the endorsements don't come as much of a surprise. But the joint announcement seems to suggest the unions will make the race a priority in a Bronx district where they both have particularly high membership rolls.
Rivera also has the backing of some wealthy reformers, but in my story about the race a couple of weeks ago, nearly everyone I spoke to stressed the importance of organized labor in countering what promises to be a well-organized and well-funded get-out-the-vote operation by the Espada campaign.