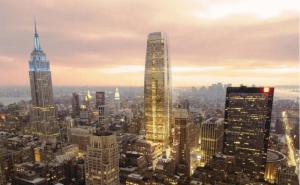 Looks like Boston Mayor Tom Menino has not cooled off very much on the subject of Vornado.
Earlier this year, the mayor, upset about the stalled progress at a half-demolished, prime, Vornado-owned development site in downtown Boston, proclaimed his rage about comments made by Vornado chairman Steve Roth, who indicated he had encouraged blight on a prime New York site in order to win subsidies. (We reported the comments at the time; the subsequent developer bashing by the mayor is here.)
Now, per the Boston Herald, Mr. Menino's anger has been reignited by the attention paid to Vornado's giant planned office tower near the Empire State Building (called 15 Penn Plaza). The mayor apparently sent a message to Mayor Bloomberg about his feelings on the topic:
A furious Hub Mayor Thomas M. Menino yesterday notified Big Apple Mayor Michael Bloomberg that the developer proposing a controversial skyscraper beside the Empire State Building is the same builder that left an unfinished job – and a gaping hole – in the middle of downtown Boston.

…

"Just the arrogance of that corporation Vornado, saying we want to build a building (as high as) the Empire State Building when they have a project here in Boston that's been unfinished for over 2 years," Menino said. "Very, very, very arrogant."

Menino added, "They have no respect for the business community of Boston or the people of Boston."
To be fair to Vornado, it's not like the company is about to start development on 15 Penn Plaza tomorrow. The company says it needs a tenant, and it's just securing approvals now, not starting new high-risk projects. (Not that the lip-sealed Vornado would ever think of commenting in an article to explain this.)
The exchange with the Bloomberg administration was followed by a stern public warning in today's Boston Herald:
"This sheds a pretty harsh light on Vornado and the way they view development," said Boston Redevelopment Authority Director John Palmieri. "It obviously represents a determination on Vornado's part that Boston is not where they want to conduct business."
Yikes.
Vornado apparently saw a scaled-back plan for its stalled site—once meant to be a $700 million mixed-use development—nixed by Mr. Menino as well, according to the Herald.