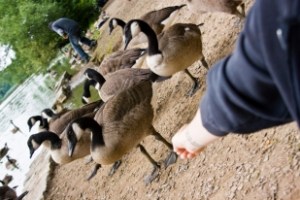 Last night at sunset, Park Slope denizens of all ages, though mostly of the older ages, crowded the Prospect Park Bandshell for the premiere screening of a new documentary about Frederick Law Olmsted presented by the Prospect Park Alliance.
The Olmsted Legacy was narrated by Kerry Washington and featured Kevin Kline as the whimsical voice of the man who designed Central and Prospect Parks, taken from his journals. As the audience waited for the sky to grow dark enough for the movie to begin, Tupper Thomas — the Park Slope administrator of 30 years who will retire in 2011 — took the stage to jokingly welcome everyone to the "world premiere" of the homespun documentary.
She then introduced Parks Commissioner Adrian Benepe, who made a joke of his own shortly after he began.
"It's somewhat appropriate that Tupper is addressing you during this, her swansong year," he said, pausing with heavy irony.
The gag was met with some chuckles, but mostly groans.
"Too soon," tut-tutted one or two audience members.