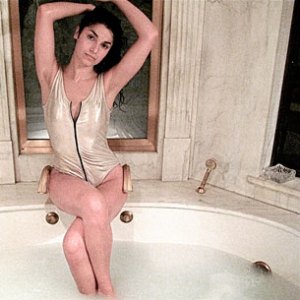 American Apparel may have done plenty of sleazy things over the years (and Gawker may have chronicled them exhaustively), but it looks like the company's downfall is going to be boring and business-related rather than scandalous and boob-related. According to the LA Times, American Apparel said yesterday that its second-quarter sales "probably fell" compared with last year, and that it was "unable, without unreasonable effort and expense" to file a full quarterly report.
The Times adds that this news was only "the latest in a long string of problems":
Last month, the company's stock plunged after it announced that Deloitte & Touche had resigned as its independent public accounting firm.

The company was also threatened with being delisted by the New York Stock Exchange because it failed to file its first-quarter earnings report on time.

American Apparel is also struggling with reduced manufacturing efficiency at its production facilities after laying off 1,500 workers in September.
Look, it's easy to complain about American Apparel but we are going to be way bummed if we have to find a new crop-top purveyor. Dov Charney was just trying to grab his piece of the American dream. Replace Gatsby's blinking green light with a neon lamé zip-front leotard and there you have it, basically.