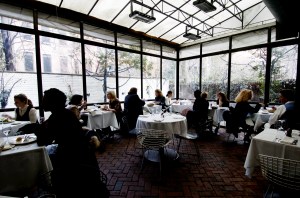 The Smithsonian discovers just how much the Abstract Expressionists drank, Artinfo puts together a list of artworlders' favorite restaurants, and bloggers worry celebrity obsession has hit a new high. This week in art news: Your guiltiest pleasures.

1. Scientists Investigate Stendhal Syndrome
A group of scientists in Florence are monitoring the vital signs of museum-going tourists in an effort to determine whether or not Stendhal Syndrome-a psychosomatic illness in which viewers become dizzy or faint in response to a work of art-actually exists. The Guardian's issue with the experiment? The testing site isn't beautiful enough.

Our take: The Guardian might sound snotty, but we have to agree-in a city that's home to Michelangelo's David and Boticelli's Birth of Venus, why choose a building filled with government offices for this experiment?
[The Guardian]
2. Where the Art World Eats
Artinfo culled a list of five art-world power restaurants around the globe. Although the methodology behind their choices is never explained, Chelsea's Bottino is their pick for New York.

Our take: What? Could the Artinfo editors not afford Casa Lever or Sant Ambroeus? Petaluma? Caprice? Red Cat? B.E.S.? When was the last time you saw Larry at Bottino? And what about sushi?
[Artinfo]
3. David Zwirner Builds Pop-Up Bookstore
Is David Zwirner switching careers? The Chelsea gallerist announced he will open a summer pop-up bookstore-but only for one week, starting August 9. The first-annual sale will offer deals on rare and out-of-print books, signed artist catalogs, and DVDs.

Our take: And here we thought print was a thing of the past.
4. A Contrarian View of the Art iPhone App
The Museum of Natural History became the latest museum to release an iPhone app this week, but some museumgoers aren't pleased. Andras Szanto at Artworld Salon worries that museum apps will detract from the joys of aimless browsing and discovery, not to mention distract visitors from the artworks themselves.

Our take: Go to any museum in New York and you'll see people don't need the pretense of an iPhone app to spend their time tweeting and texting.
[NYTimes, Artworld Salon]

5. Satellite Fairs Try For a Slice of The Frieze Cake
Several new fairs will pop up around London's annual Frieze contemporary art fair in October, according to The Art Newspaper. In addition to Christie's previously-announced contemporary print fair, Moniker Art Fair will offer "urban artwork" out of a massive Victorian warehouse and Sunday Fair will feature young international galleries.

Our take: Have we really not reached the art fair saturation point yet? Maybe the market is hungrier than we thought.
[The Art Newspaper]

6. Is Celebrity Obsession in the Art World Getting Worse?
Some bloggers think so. Judith Dobrzynski questions the quality of recently exhibited celebrity artwork, including work by Dennis Hopper, Leonard Nimoy, Jessica Lange and Ron Wood. Edward Winkleman expands the concern to art news, highlighting artinfo.com's celebrity-heavy coverage with a damning photoshop operation on its front page.

Our take: Isn't it also possible that celebrities (read: James Franco, Lady Gaga) are becoming more obsessed with the art world?
[Real Clear Arts, Edward Winkleman]

7. New Downtown Aspen Art Museum Approved, With Caveat
After a complicated legal battle, a new downtown art museum in Aspen, CO is one step closer to getting the green light. A development company seeking to construct a mixed-use building on the lot reached a settlement with city officials, but agreed that either party could terminate the settlement if citizens challenge the agreement within the next 30 days.

Our take: Let's get this straight: citizens are trying to challenge the development of an art museum?
[Aspen Daily News]

8. Franz Kline Drinks a Lot
Artinfo got its hands on Franz Kline's liquor bill from December 31, 1960. The Abstract Expressionist painter, who was probably stocking up for a New Year's Eve party, spent over $274 (which, adjusted for inflation, comes out to about $1,960). The bill, along with Alexander Calder's Paris address book, is part of a new collection of artist ephemera assembled by the Smithsonian Archives of American Art.

Our take: While this discovery may reveal that Franz Kline liked whiskey, one aspect of the bill doesn't surprise: the Abstract Expressionists really liked to drink.
[Artinfo]

9. Experts Weigh in on the Brooklyn Museum
The New York Times asked experts in various fields-including former Met director Philippe de Montibello and Brooklyn borough president Marty Markowitz-to give the identity crisis-stricken Brooklyn Museum some unsolicited advice. The take-home message: being in Brooklyn is hard.

Our take: Anyone who has ever tried getting from Buchwick to Park Slope without going back to Manhattan already knows that.
[NYTimes]

10. Here Are a Few of Jerry Saltz's Favorite Things
When the art world goes on vacation in August, the news peg-less features start rolling in. This week, Jerry Saltz selects his favorite paintings in New York.

Our take: While we're skeptical of the "here's-an-article-about-things-I-like" trend, we're glad to be reminded about some often-overlooked treasures in the city's permanent collections.
[NYMag]