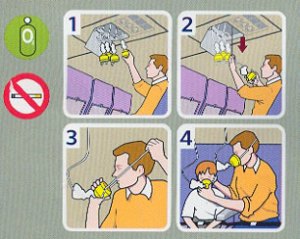 Do you have to take a flight in the next few weeks? Think again, especially if that flight is hosted by a Mexican or Thai airline.
But don't panic. Remain calm and seated in the upright position, and listen closely: The Business section of the New York Times today reports that there is widespread confusion about what category ratings released by the Federal Aviation Administration (F.A.A.) actually mean. This comes after Mexico was downgraded from a category 1 rating to a category 2 rating last month, which "means that they cannot code-share with American carriers, or add new service to the United States, although existing flights between the two countries may continue." Here's what we're taking away from the article:
1) Maybe it's not such a good idea to fly on a airline operated by a Thai company, even though it is a category 1 country. That's according to Bonnie Rind, whose brother died on a 2007 Thai flight — along with 90 of the 130 total people on board. In what might be a move more courageous than folk-hero Steven Slater, she took matters into her own hands:
Ms. Rind, an engineer who has some flight experience, did her own investigation, using the Internet to connect with Western-trained commercial pilots working in Thailand. She said she had found evidence of a broader pattern of lax oversight of arilines in Thailand (posted at investigateudom.com), and met with representatives from the F.A.A. to press for a more thorough review of the country's safety standards.
If Thai flight companies keep getting press as bad as this, Thailand might be the next on the F.A.A.'s downgrade chopping block.
2) Mexico was probably downgraded because of "some problems with its work force of inspectors," according to William R. Voss, head of the nonprofit Flight Safety Foundation. It seems that Mexico just doesn't have enough inspectors, though they're working on it. There's no way to know the definite reason for downgrading, though, because "the F.A.A. typically does not disclose why a country's rating has been downgraded." Kind of fishy. The spokeswoman for the F.A.A. said they couldn't comment because of "confidentiality agreements with other countries." Sounds like there's a lot of politics involved in these decisions.
3) Below is a list of countries that didn't past the F.A.A.'s "International Aviation Safety Assessment" protocols, meaning they're category 2 rated ("Does Not Meet International Civil Aviation Organization Standards."). Category 1 just means they met standards. There's no category 3 rating, thank Heavens, but our sources say the F.A.A. secretly reserved a "super-stellar" category 0 rating for the United States of Awesome.
Bangladesh, Belize, Cote D'Ivoire, Croatia, Democratic Republic of Congo, Gamibia, Ghana, Guyana, Haiti, Honduras, Indonesia, Israel, Kiribati, Mexico, Nauru, Nicaragua, Paraguay, the Phillipines, Serbia and Montenegro, Swaziland, Ukraine, Uruguay, and Zimbabwe.