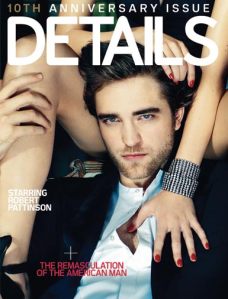 Today, ASME announced the finalists for their 2010 Best Covers Contest, a series of awards voted on by Amazon.com customers. The finalists were chosen by a group of 90 magazine editors, and at first glance there's nothing too surprising. The categories seem standard, and their representative cover subjects do as well. Stephen Colbert is on two of the five "Funniest" covers, Mad Men (the women, that is) are on two of the "Sexiest," and so on.
But then, dropped at the bottom of the list without any fanfare, is a new category: "Best Vampire." Such is the obsession with bloodsuckers that a magazine contest cannot proceed without an entire category devoted to the creatures. There's a pretty thorough explanation for this addition over at Folio. Apparently this new category is "a nod to the numerous covers featuring characters from the increasingly popular vampire-themed movies and TV programs." Good to know!
And in case you were wondering, the list of issues vying for the "Best Vampire" award is not entirely dominated by Twilight. The "Halloween" issue of Martha Stewart Living is also in the running.