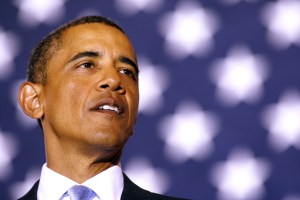 On Sunday, in honor of the five-year anniversary of Hurricane Katrina, President Obama stopped in for a chat with NBC News' Brian Williams. And after some Katrina-related patter (Williams: Is the BP spill your Katrina? — Obama: Nope!), Brian Williams popped a question about the U.S. economy: "Do you have anything new on the economy? And while you've been away, we had a horrible GDP number last month."
Brian Williams is quite informal! "Anything new?" It's like saying "Hey Barack, what's up with the economy, man?" Also, did Williams expect Barack Obama, the President, to be surprised by recently released GDP figures? Obama had, after all, been away on vacation.
Obama said, "The economy is still growing, but it's not growing as fast as it needs to. … And I've said so before I went on vacation, and I'll keep on saying when I — now that I'm back. We should be passing legislation that helps small businesses get credit, that eliminates capital gains taxes so that they have more incentive to invest right now."
He also said that there is no "magic bullet" to solve the crisis. Maybe that's why his administration is so fixated on deploying lasers instead.