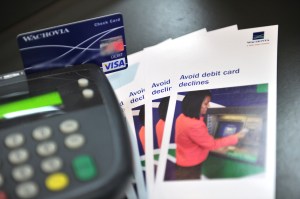 In response to the recently passed financial reform legislation, the Federal Reserve has begun work on imposing fee limits on debit-card transactions charged by big banks. Banks are unhappy about this, because every time a clerk swipes a card, a few coins jingle into their pockets. Now, billions of dollars in revenue are at stake.
The law allows banks to charge the fees in part because they're a way to cover costs generated by card fraud. Banks want to go one step further, and put the revenue toward consumer protection and investigations of claims. Whoa whoa whoa, say consumer and retail interest groups, who suspect banks might try to collect more than they really need to cover fraud costs. They also argue that banks should have to clean up the mess when fraud occurs.
Meanwhile, small banks are worried that the new rules, which provide exemptions for companies with less than $10 billion in assets, are looking on with concern over how these shifts may impact their own bottom lines.