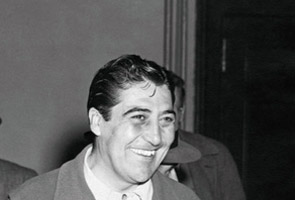 Long before Steven Slater's wild ride down the escape chute, there was bus driver William Cimillo. Cimillo, as the Times tells us, made Slater look like a rank amateur:
A Bronx bus driver fed up with the daily annoyances and nonsense of it all, Mr. Cimillo, 38, climbed behind the wheel of his bus one morning in 1947 and took a 1,300-mile detour.

"He disappeared for two weeks," recalled his son Richard Cimillo, a retired firefighter who is now 75. "They picked him up in Hollywood, Fla."
Cimillo, like Slater, had just had it with the job. Contemporary accounts blame monotony as much as anger and frustration. This is from the April 2, 1947 Sarasota Herald-Tribune:
Some housewives won't find it necessary to consult a psychologist to find out why William Cimillo, a Bronx bus driver, suddently turned his 44-passenger city bus southward and took himself a joy ride to Hollywood, Fla.

William had been on one route for 16 years. He had passed the same corners, loaded and unloaded the same people, heard the same grouches and cussed the same jay walkers.
How many furtive housewives added an extra shot of something to their morning coffee after reading that?
Cimillo's experience may be a reliable predictor of the way things will go for Steven Slater. Aside from facing the legal consequences of his actions, Cimillo did indeed become a kind of folk hero, arriving home to "the cheers of the waiting crowd of thousands" outside the New York police station where he was processed (because people went to places to see notorious folk before the age of the Facebook fan page).
The Times reports that Cimillo also had his brush with real celebrity, a version of his story slated at one point to become a movie starring Elizabeth Taylor.
The end of Cimillo's story, though, is probably where these parallel narratives will diverge – Cimillo got his job back, and never took any thousand-mile detours again.