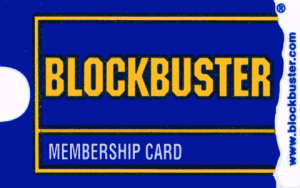 Blockbuster Inc. has finally succumbed to the Netflix/Redbox curse–according to the Los Angeles Times, the one-time titan of the movie rental industry is set to file bankruptcy in September. Citing insiders who have been "briefed on the matter," the LAT reports that Blockbuster execs and major debt holders met with movie studios last week to inform the studios that they will enter "pre-planned" bankruptcy in 2 to 3 weeks:
Blockbuster is hoping to use its time in Chapter 11 to restructure a crippling debt load of nearly $1 billion and escape leases on 500 or more of it 3,425 stores in the U.S. Maintaining the support of Hollywood's film studios during the process will be critical so that Blockbuster can continue to rely upon an uninterrupted supply of new DVDs.
In the last two years, Blockbuster has lost more than a billion dollars. Once the most ubiquitous name in the DVD rental business, Blockbuster has been crippled by interest payments on its massive, outstanding debt.
According to the LAT the major movie studios are ready to support Blockbuster during its restructuring, especially since Movie Gallery Inc. went belly-up last spring. The big losers in the bargain will be the debt holders and landlords leasing the 500 stores all over the country.
[LAT]