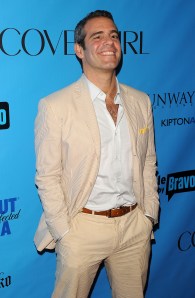 Andy Cohen recently sat down with BlackBook to share his thoughts on the network where he manages original programming and hosts weekly reunions of "Bravolebrities" (their word), and broader opinions on life in general.
It turns out that Cohen, 42, is a great fan of the Boom Boom Room and finds the women who populate his shows "sometimes unintentionally funny." In his mind, the Real Housewives of New York are a Jane Austen-esque "drawing room comedy." The real takeaway from the interview, however, is the fact that Cohen doesn't find his network overly gay.
I always saying we're bi, but I think it's kind of how I view myself being gay—it's just one of things that I am. So Bravo may or may not be gay, but I think there's a lot of other things going on. I think for the gay people on Bravo, it's one of the things that they are-they're not on Bravo because they're gay.
Related! If Cohen's channel isn't striving to be gay, then what on Earth is Logo, the gay channel, trying to prove?