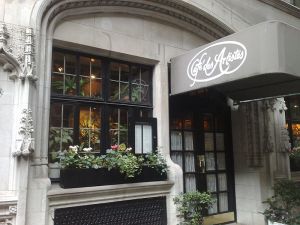 The Wall Street Journal reports today that Café Des Artistes will return next year with a new owner and a new name. The restaurant shuttered last year in a climate that killed fellow New York standbys The Rainbow Room and Tavern on the Green.
In addition to changing the name, new owner Gianfranco Sorrentino plans to refocus the cuisine to reflect a southern Italian sensibility. He is a restauranteur who has managed, among other eateries, the café at the MoMA and is president of a group dedicated to "fostering authentic Italian cuisine and enhancing its image through education."
Since it opened in 1917, Café Des Artistes had been owned by George Lang, but a month-long vacation turned into a closing and the restaurant filed for bankruptcy, listing half a million dollars in debt.