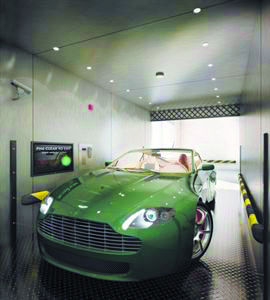 Interior design savant Jamie Drake is typically found decorating the Manhattan homes of others; however, according to city records, he is preparing a renovation of his own with his $4.662 million apartment purchase at 200 11th Avenue.
The two-bedroom apartment in the much babbled-about, Selldorf-designed, sky-garage-flaunting condo building was originally listed for $5.68 million before going to Mr. Drake for a discount of over a million.
Of his decoration plans, Mr. Drake told The Observer, "The apartment is blessed with soaring spaces, it has 16-foot ceilings throughout, which is what actually attracted me to the building more than the sky elevator garage." (Though, fear not, Mr. Drake does have a car to make use of the haute hydraulics.) "I'm going to be designing it in a somewhat new direction. Color will be in more limited use than in my past work."
Why is that?
"To focus the eye and pay homage to the neighborhood's former businesses, such as taxi repair shops. I'm looking at a lot of tar, rubber, asphalt–so grays, graphite, charcoal mixed with metallics, stainless and brass." A palette that will complement not only the neighborhood's industrial history but also the master bathroom's soaking tub carved out of a block of solid granite.
Listed by Douglas Elliman's Leonard Steinberg, who declined to comment on the sale out of deference to his clients, the apartment is accessed through a private elevator that leads through rooms to an "elegant 253sf Loggia" overlooking Gallery Row and "a discreet custom crafted kitchen that is concealed by folding teak doors."
Is Mr. Drake, who has decorated the homes of such notable New Yorkers as Mayor Bloomberg and Madonna, excited to have Aussie actress Nicole Kidman as a neighbor?
"I've read about many of my storied neighbors, including Ms. Kidman and Mr. Urban, as well as Mr. Dolce and L'Wren Scott, and I look forward to being as good a neighbor to them as they are to me."
cmalle@observer.com