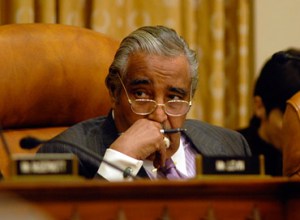 Charlie Rangel kicked off his 20th campaign for Congress at the Adam Clayton Powell State Office Building on 125th Street today, saying that he would leave aside questions about his ethics troubles as he focuses on the remaining five weeks of what is shaping up to be the toughest re-election campaign of his career.
But before he got to that, Rangel spent the opening minutes of the news conference knocking the press for their coverage of him.
"I'm fully aware that reporters and those in the media business do what they have to do," he said after thanking his family for standing by him. "I have no problem with that, but I just would like to believe that in our great country that the allegations of corruption, the demands for resignation, now that you know that that's not an option I should not have to encourage the fourth estate to try and take a look at the law. It might help."
And without naming them by name, he singled out the New York Post, which has been withering in its coverage of Rangel, and said that all future questions on his alleged ethics violations would have to wait until the Ethics Committee issued their report.
"I have no problem with reporting it, but if one can just take a breath now and to realize that sooner or later, which I have no control over, the House of Representatives Ethics Committee will give me a a hearing. Now I don't even think even," he said, pausing. "I started to name a paper but do I really want to? No paper can deny anybody, even a Charlie Rangel opportunity for a fair and equitable and just hearing."
Rangel seemed to take special issue with those who have been calling for him to resign or to not seek re-election before the Ethics Committee has completed its work.
"As a matter of fact Mayor Dinkins really describe my view last night in sharing with the people who said 'resign' 'corrupt,' all of those things," he said. "I can't find a better way to say it."
Eventually Rangel turned to the immediate matter: his re-election campaign. He talked about jobs, health care, and trade. He said that he would be willing to debate and mentioned most of his opponents–Vince Morgan, Adam Clayton Powell IV, Joyce Johnson–by name. He did not mention Jonathan Tasini, who organized a protest in front of Rangel's fundraiser at the Plaza last night.
He said that people ask him why he is running and if he really believes that he is the only person in the district that can serve in Congress, and Rangel showed that he is ready to go toe to toe in this campaign.
"I say there is no question in my mind that there are people that can more than adequately represent this great diversified district," he said "The problem is none of them are running in this race."
And he pledged to run hard, raising the specter of the man he beat four decades ago, who stayed in Puerto Rico rather than take on a young upstart named Charlie Rangel.
"I think it's safe to say that his biggest mistake was not coming home and campaigning," he said. "I may be making a lot of mistakes but that won't be one of them."