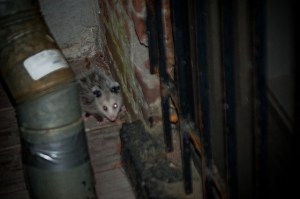 Backyard chicken coops are extremely hot right now; even trendsetting it-girl Susan Orlean has one. Naturally, so do many residents of Carroll Gardens, where The Brooklyn Paper reports one such resident was recently the victim of a opossum-related chicken slaying. Or so she believes.
Undaunted by the fact that raccoons have been spotted in the neighborhood and that opossums don't really eat chickens, backyard chicken owner Rose Unes was convinced that it was an opossum that decapitated her chicken in late July.
"They are very ballsy," she observed. "They look at you with this serious New York attitude."
Ms. Unes most likely believes this because local neighborhood blogs have been chronicling a recent invasion of opossums in the neighborhood, but one must only pray that this doesn't lead to escalation or retaliation on the part of the chicken-loving residents of Carroll Gardens. Because this is essentially Nouveau Brooklyn's Do the Right Thing.