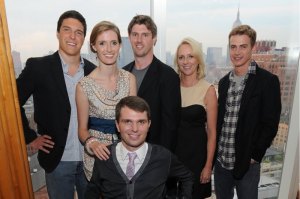 The Christopher and Dana Reeve Foundation's Champions Summer Party on Tuesday evening was a welcome reprieve for those suffering Hamptons fatigue — unlike what feels like every other summer event this year, it was held right here in the city, at the trusty Boom Boom Room. Alexandra Reeve Givens (co-chair of the Champions Committee, and Christopher's daughter) admitted the choice of venue was risky: "You know, people say New York tends to get a little slow in August, so for us, we always like it as a pick-me-up," she said. "Every year, we're like, 'Do we have the guts to do it?' 'Yes, we do!' We're like a lone bastion to not have our summer event in the Hamptons."
Ms. Givens, for her part, has a powerful reason to stay in the city during the summer: she's a full-time, practicing associate attorney at the esteemed Cravath, Swain and Moore firm. Her brother, Matthew Reeve, has also been keeping busy: he's in a three-year graduate program at NYU, which he'll be leaving with dual Master's degrees in film and business, and which includes an intense summer session. "I just realized, I can't take any credit for this event in any way!" Mr. Reeve exclaimed. (A companion affectionately corrected him: "That's not true at all.")
When we asked Mr. Reeve what he'd been reading, he rattled off some very dry-sounding textbooks: The Independent Producer's Survival Guide; Basic Statistical Ideas for Managers. ("Great cure for insomnia," he offered.) Mr. Reeve is well-rounded, though; he said he'd also been reading Josh Waitzkin's The Art of Learning. "He was a former chess champion who then gave up professional chess and started tai chi," Mr. Reeve explained.
Speaking of memoirs, we also chatted with Francesco Clark, founder of the Clark's Botanicals skincare line, who's just released his own. Walking Papers, which details both the spinal-cord injury that left Mr. Clark wheelchair-bound and his painful, remarkable recovery process, arrived on American shelves June 3, and will launch in Russia, China and the United Kingdom in three weeks. The characteristically cheerful and polite Mr. Clark described his ordeal as, all things considered, a positive thing. "I'm getting better — I'm using my wrists now. I'm involved in a research study at MIT, a robotic research study," he said. "I don't know, I forget about my injury… life has to move on. And so my summer feels like your summer."
Apart from actor Hayden Christensen, the event drew mostly gorgeous media types: we spotted Louise Roe, erstwhile Olivia Palermo competition on The City and current host of The CW's makeover show Plain Jane, along with Allure editrix Linda Wells and men-about-town Peter Davis and Kristian Laliberte. But it was Paper's Mickey Boardman we couldn't help approaching; we were drawn to his jewelry. Over a lime-green polo shirt, Mr. Boardman wore an eye-catching, oversized green bib necklace.
Fenton, maybe?, we speculated internally, before Mr. Boardman beat us to the punch. "Joan Rivers for QVC!" he announced proudly. "My mom sent them to me. This color story is 'peacock.' I also have them in pink."