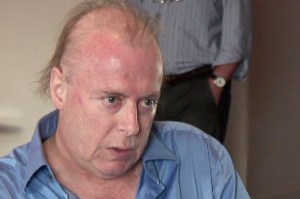 Jeffrey Goldberg recently sat down with Christopher Hitchens to ask him about his atheism in the face of dying. Goldberg is well suited for the task, as he's publicly pondered the pundit's lack of faith a good deal recently.
"How am I?" Hitch responds to Goldberg's opening pleasantries. "I'm dying."
It isn't long until they get right into it. Hithens states for the record that any stories of deathbed conversions following his shuffling off would be false. He even provides a way of explaining any statements he does actually make, saying that anything he spouts off in a moment of weakness is, ipso facto, not his actual opinion.
The entity making such a remark might be a raving terrified person whose cancer spreads to the brain. I can't guarantee that such an entity wouldn't make such a ridiculous remark.
Hitchens is charming as ever, drops a Wodehouse reference and easily falls back into his righteous condescension, which is all reason enough to watch the video. Another reason: Martin Amis creeps into the shot in the form of a decapitated body holding a Corona bottle.