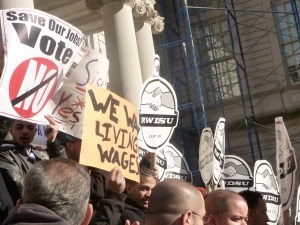 A fight over legislation that would require a minimum wage for workers in subsidized developments will probably wait until at least next spring.
The Bloomberg administration on Thursday announced that it had picked a private consultant to craft a report on the issue—good, independently-produced data on the topic has been in short supply—and it expects the study to be complete in spring 2011. The consultant, Charles River Associates, is being paid $1 million.
Not to say a city-led study will really settle much of anything in what is a rather polarizing debate. Already, the concept of making a report has been criticized by elected officials and unions, who think the report's outcome is predetermined, and it will pan living wages (indeed, it would be a surprise, to say the least, if the Bloomberg administration ended up putting out a report recommending a high minimum wage on subsidized projects, given that the mayor has been on the record opposing the concept). And it doesn't help the optics of the whole thing that the list of academics participating on the research team include David Neumark, who has written articles and studies critical of high minimum wages. (David Lombino, a spokesman for the city's Economic Development Corp., said that there are six academics on the consulting team, and Mr. Neumark is not heading up the effort. "He's not a leading member of the team," he said. "It's to be expected that there will be a diverse set of opinions as part of their team.")
With that said, it's hard to argue with more data, regardless of who's paying for it and whatever the end recommendations are.
The whole situation is not unlike the paid sick leave issue, for which a bill expanding required benefits to workers has broad support within the City Council, but not from the leadership or the mayor. Its supporters have been pushing for a vote, but after the Partnership for New York City said it wanted to bring in more data on employers, Council Speaker Christine Quinn said she wanted to wait until the Partnership's report comes back.