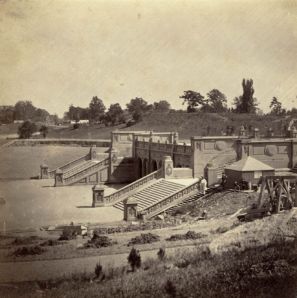 Claiming historical ownership, New York City has sued a New Jersey man over a set of 86 drawings belonging to Jacob Wrey Mould — a British architect and planner who worked for the city in the second half of the 19th century and helped design Bethesda Terrace, Belvedere Castle, and Tavern on the Green, among other notable New York landmarks.
Sam Buckley, the drawings' owner, had given the Mould sketches to Christie's last month in the hopes of selling them at auction when the city swooped in, seeking possession of the drawings and $1 million in damages. Buckley came into the drawings through his father, who claimed to have found them in a dumpster over 50 years ago.
Among the sketches are plans for a music pavilion in Washington Square Park, and a memorial for Abraham Lincoln in Union Square.
On Thursday, lawyer for the city Gerald E. Singleton said they "expect an amicable resolution" to the dispute, clearly a net gain for the city, which would be making $1 million off something it may have thrown away.