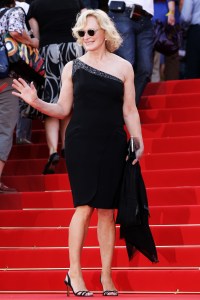 In early May, sometime around Mother's Day, while the rest of New York City flocked to farmers' markets for the season's first peonies, real estate nerds and professionals were glued to their computer screens hung up on a certain Corcoran listing which mysteriously changed from "On the Market" to the nebulous "No Longer Available" on the Web site Streeteasy, while brokers' internal real estate datebases marked it only as "temporarily off the market."
The apartment in question belonged to Glenn Close and husband David Shaw: a 19th-floor corner property at The Beresford, originally listed in January for $11.8 million before being reduced by $1 million in late March (the couple bought the apartment in 2005 for $6.025 million). Rumors ran rampant, and while theories ranged from well-informed brokers convinced the apartment had entered contract to a Daily Intel post suggesting Ms. Close may be having second thoughts and staying at the storied Emery Roth-designed gem, no one could say for sure. Tight-lipped listing agents Robby Browne and Maria Pashby remained mum on the affair.
Lo and behold, city records now reveal that the two-terraced apartment was indeed in contract and has since sold to Continental Properties managing partner Mark Fisch and wife, Rachel Davidson, for $10.2 million.
Flush with French doors leading to two generous "entertaining" terraces, the two-bedroom apartment in the building's superior park-front D-line provides views east over Central Park and south over the Planetarium and beyond, down the length of the park to Manhattan's southern skyline. "19-D is one of New York's and certainly Central Park West's most glamorous apartments," touts the proud listing.
Mr. Browne politely declined to comment for this article while Ms. Pashby, currently traveling in Portugal, could not be reached for comment. The petit apartment, by Beresford standards (only 2,300 square feet), was originally the parlor floor of an opulent duplex at the famous building—which counts Jerry Seinfeld, Richard Holbrooke, Diana Ross and John McEnroe among residents—and boasts a 19 by 25 foot corner living with a wood burning fireplace as well as two studies. Even the "happy, large" kitchen/dining room has park views!
Ms. Close currently stars in Fx's Damages, described by The New York Times as, "Law & Order as rendered by Marcel Duchamp" due to its artful manipulation of the Bernie Madoff scandal which inspired it. The series, which co-stars Ted Danson as the nefarious Madoff character, is filmed in Manhattan, dispelling any theories that Ms. Close is picking up her Marchioness de Merteuil petticoats for another filming location. It is unclear where Ms. Close and Mr. Shaw, a managing partner at the private equity firm Black Point Group, will decamp to, but one criterion should be a display case, or, at the least, some prominent shelving: in her move from The Beresford Ms. Close will be wrapping three Tonys, one Obie, three Emmys and two Golden Globe awards in bubble wrap before moving (she has been nominated for an Oscar five times, though has never taken the Ken-like statue home).
Late last fall, the Post reported that Mr. Fisch was in contract to buy an $11.5 million four-bedroom, four-bathroom abode at The Dakota. The apartment, which flaunted a 29-foot living room with floor-to-ceiling windows and was perused by home-hunting Alec Baldwin, was originally listed for $24 million, making it one of the historic building's most dramatic price cuts. However, rumor has it that the bugle-blazing article proved a dangerous liaison for the Fisches, thwarting their board application and forcing the deal to fall through.
But it seems Mr. Fisch, who is a member of the Council on Foreign Relations and a trustee at the Metropolitan Museum, has settled for the better Beresford sacrificing two bedrooms for two terraces and park views (The Dakota apartment was a four-bedroom that looked onto the courtyard; The Beresford has only two bedrooms but has two studies and, of course, the views).
The Beresford listing poetically concludes, "it's rare when something like this comes on the market, as the combination of space and volume, indoor and outdoor private areas, sunrise and sunset, make this an especially remarkable home." From the looks of it, sunset on the 19th-floor of the Beresford is to die for, which might explain Mr. and Ms. Fisch's fatal attraction to the high-floor apartment.