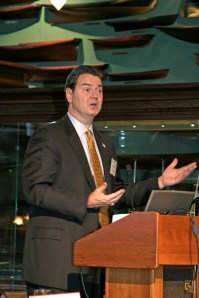 Yesterday, Sean Coffey sent out a letter to his fellow AG contenders Eric Schneiderman and Kathleen Rice slamming them for not supporting an ethics reform bill that would "demand full disclosure of outside income for all legislators."
He noted that state Sen. George Winner has been pushing for upstate gas drilling but also works for a law firm that would benefit from that drilling. And that Senate majority leader John Sampson has faced questions over use of government staff for his legal work.
"Sen. Schneiderman, a close ally of Mr. Sampson, sponsored an ethics bill containing a loophole that exempts trial lawyers from disclosing outside income. DA Rice has remained silent on the issue while taking $350,000 in campaign contributions from Weitz & Luxenberg, the law firm from which Assembly Speaker Sheldon Silver notoriously receives an undisclosed pay package," the letter states.
Note that the letter accused Rice of being "silent" on the issue, not necessarily blocking reform. Last night, Rice responded by faxing a letter to the Coffey campaign that accuses Coffey of being a tad disingenuous, since an AG cannot force a law firm to disclose who their clients are or the kind of work that they do, and then she changed the subject, hitting Coffey for a series of articles that accuse him of pay-to-play when he was a lawyer in a private practice.
Wrote Rice:
"Since we are on the subject of transparency, I find it equally important that you, finally answer whether or not you will disclose all of the states in which you have given political contributions and also received government legal contracts. Recent articles by the New York Daily News and Wall Street Journal have documented hundreds of thousands of dollars in political contributions given by you and your law firm to candidates who ultimately awarded you legal contracts that made you the millionaire that you are…I think you would agree that the public has a right to examine your record of donations and legal work to ensure that you are not a candidate who believes in one thing and practices another."
Now Coffey's turn, who, changes the subject slightly, asking if Rice believes that legislative leaders should disclose outside income:
"District Attorney Rice is dodging a direct question at the heart of reform – the answer to which is a litmus test for leadership in the office we both seek. Do you – or do you not – believe that Speaker Silver and Majority Leader Sampson should voluntarily disclose all outside compensation so the public can ensure that their interests are not being compromised by corruption? Nothing less than the public trust is at stake in our answers to this direct question as candidates for Attorney General. Playing dodgeball on the critical question of reform and accountability is simply not good enough."
We reached out to Susan Lerner of Common Cause to help sort some of this out. She said that the argument that legislators use to not disclose their outside income–that it would violate attorney-client privelege–is utter hogwash, but she said that an attorney general cannot do too much about it other than use the bully pulpit. Which, it should be noted, both Rice and Coffey think they should do.
She added: "It's generally been regarded as the prerogative of the legislature that they set their own rules for legislative ethics oversight. And that's why we have such poor legislative ethics oversight."