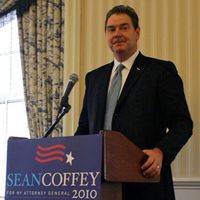 Coming on the heels of Kathleen Rice's major TV ad buy announcement last night, her opponent for the Democratic nomination for attorney general, Sean Coffey, is out with his own ad this morning.
The 30-second spot, called "Justice," will run statewide on network and cable TV through the Sept. 14 primary, according to campaign spokesperson Tammy Sun. Other details were not available.
The ad juxtaposes biographical details of Coffey's working class background with images of him in the Navy, as an attorney, and the hard-scrabble faces of every day New Yorkers.
The script reads:
You don't just wake up one day and say, "I'm running for Attorney General."

If you're Sean Coffey, you grew up in a family that struggled through hard times, but never stopped believing in better ones.

You spend years as a naval officer, tough federal prosecutor, and as a lawyer who took on Wall Street on behalf of thousands of defrauded investors – holding company officers accountable by making them pay out of their own pockets.

New Yorkers don't need another politician seeking office. We need an Attorney General seeking justice.
The campaign says that the ad is not in response to Rice going up on the air, but it looks like a play for the same kind of middle-class, suburban, and white voters that the Rice campaign is targeting.
UPDATE: This ad is actually not new, a reader helpfully points out and the campaign confirms, but identical to an ad that ran for a week last June. According to the campaign, they sent it around again today because they have done a new buy (they declined to say for how much) and will keep the ad on the airwaves until the Sept. 14 primary
Watch here: