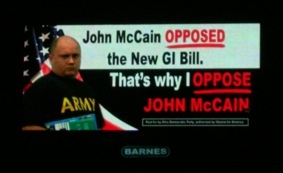 After Kathleen Rice hit fellow AG candidate Sean Coffey for "pay-to-play" campaign donations, Coffey swung back hard at Rice, accusing her of being a closet Republican, of having no problem coming to Coffey for campaign funds back when she was a candidate for Nassau County district attorney, and even making a winking reference to Rice's admittance of dabbling in pot and cocaine during her college days.
The Coffey campaign also helpfully sent along a photograph of a billboard that Coffey funded. His campaign has been arguing that Coffey's largesse to elected officals was not for any personal benefit, but to help Democrats get elected. This ad ran in southern Ohio (a swing state!) during the 2008 elections.
The release, from campaign manager Van Parish, raises the temperature of the debate in the attorney general's race, which will be decided in five weeks tomorrow, and so is worth reprinting in full:
"Sean Coffey is a committed lifelong Democrat and proud of his consistent support for core progressive values, which is more than District Attorney Rice can say. DA Rice was still a Republican when Sean Coffey was fighting to protect minority renters from unlawful eviction in NY Housing Court; she was still a Republican when he was defending defrauded middle-class investors from corporate crimes before it was popular; and she was still a Republican when he served as a federal prosecutor busting cocaine dealers. Sean is proud of his support for Democrats across the country – in every region and at every level. Each additional Democratic seat won was an important step in rolling back the extraordinary damage of the Republican years.

"It's amusing that District Attorney Rice had enthusiastically approached Sean Coffey for a donation to her campaign for District Attorney last September. Information about Sean's wide-ranging support for Democrats at the federal, state and local levels has been public information and well-known for years. As a local politician and recipient of his donations, Rice knows first-hand about Sean's support. Rice clearly had no problem accepting his money at the time when it suited her political aspirations. Now, when Sean Coffey is emerging as a major threat to her political career, she has defaulted to desperate attacks to suit her politics.

"We invite DA Rice to a one-on-one debate about issues involving Wall Street, how to protect our financial system from corruption and how to protect investors from all manner of corporate criminal activity. Perhaps then she can explain how she plans to remain independent from Weitz & Luxenberg, a law firm that has contributed over $350,000 to her campaign. We challenge DA Rice to support our call for public financing of the Attorney General and Comptroller offices. New Yorkers will face enormous challenges and risks as the economy begins to inch towards recovery and a highly complicated financial reform bill takes effect. These are the issues New Yorkers care about – the ones that impact their daily lives. Our campaign will remain focused on the people's work, regardless of DA Rice's desperate distractions."
UPDATE: Rice Responds.
From campaign spokesman Eric Phillips: "Sean Coffey's only response to a good government group and ivy league law professor asking him to come clean about dubious political activity is to attack one of his opponents. It's the height of hypocrisy and exactly what New Yorkers are fed up with — cynical doublespeak from another rich and connected insider. We still await a true response."