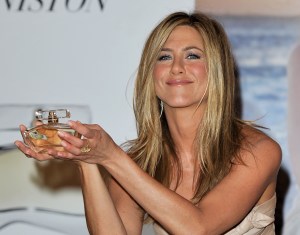 Doree Shafrir writes for The Hollywood Reporter that three of the most prominent fashion magazines have selected women in their 40s to appear on their September covers. This will help them sell at the grocery store and the airport! Vogue has Halle Berry, 43; Harper's Bazaar has Jennifer Aniston, 41; and Elle has Julia Roberts, 42.
Ms. Shafrir did the math. Putting 40-year-old women on the cover is not the norm.
The average age of Vogue cover models in the past year is 34.5; Harper's Bazaar, 32.5; Elle, 31.6; InStyle, 34.2; and W, 34.9. Harper's had the biggest range, putting 17-year-old Miley Cyrus on its February cover and 47-year-old Demi Moore out front in April.
Laura Brown, a features director for Bazaar, told Ms. Shafrir that most readers are in their 30s, and they look up to characters like Ms. Aniston (she used the word "aspirational"). Ms. Brown also explained that she thinks women in their 40s are more fashionable. "One of the things about getting older is you do grow into your sense of self. You don't look victim-y anymore," she said.
Anna Holmes, the founding editor of Jezebel, chimed in: "Bazaar editor wins the day for dumbest quote."