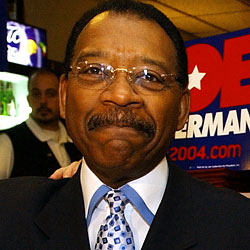 The pro-marriage equality group Fight Back New York is out today with the findings from a crowd-sourcing project devoted to digging up dirt on anti-gay marriage state Senator Ruben Diaz.
Among the items available at truthaboutdiaz.com include the fact that:
Diaz was investigated by the FBI
Diaz was arrested for possession of heroing and marijuana
Diaz sent $250,000 to the Christian Community Benevolent Association, an organization that he founded.
The approach by Fight Back NY–using their supporters to dig up dirt on a political opponent–was something of a novel one and there is not that much here that is new.
Still, when asked to respond to the group's fighting, Diaz said he was amused.
"I'm laughing. They are in love with me. I am driving them crazy…They are making fools of themselves. They are raising money off of my name, so they should thank me…They should contribute money to my campaign so they can have somebody to keep shooting at."
Diaz was in fact arrested on drug charges back in the 1960's, and said that he was a lot more charitable about past mistakes than his opponents, especially Charlie Ramos, who is running hard against Diaz with the backing of Fight Back NY. Ramos, who was an aide to former city Comptroller Bill Thompson, has also been arrested on drug charges.
"I believe in second chances. Because I got a second chance myself 42 years ago, that's what I do as a pastor, as a preacher. I give people second chances…So when Charlie Ramos came out of my jail my son [Bronx Borough President Ruben Diaz, Jr] and I, we gave him a second chance. We the Diazes placed him with Billy Thompson. That is the only job he got since he got out of jail–because we gave it to him…And then he turned on me, but I will continue to pray for him, and I will continue giving second chances to everybody that I can."
"