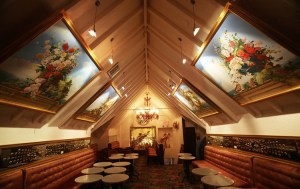 The New York Post's Steve Cuozzo, self-appointed defender of New York's culinary legacy, is spitting mad at Mayor Bloomberg and the Hotel Trades Council's Peter Ward over the demise of Tavern on the Green, which he says will continue to sit empty because the union's labor agreement with the city is so onerous it has scared off potential white knight restaurateurs:
Why would the mayor let a world-famous New York City institution die?

Well, on top of supporting Bloomberg for a third term when some other labor bosses didn't, Local 6 President Peter Ward has backed the mayor's land-use initiatives. Bloomberg clearly sees these unprecedented, often worthy, ambitions as his chief legacy — and he's been willing to appease any power broker who'll back his agenda

….

The mayor evidently saw Tavern as expendable when it came to keeping Ward happy. So when the city put out its request for proposals to run Tavern last year, it required the next operator to hire back at least 90 percent of its bloated, underused workforce.

…

No wonder that of more than 100 prospective operators who expressed "interest," Poll was one of only three, including LeRoy, to submit actual bids. The others couldn't justify the multimillion-dollar investment needed to redesign the place (another city requirement) as long as Tavern's 400-odd employees remained subject to the union contract.
Read the whole delightful screed here.