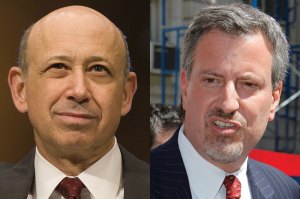 In a move hailed by New York Public Advocate Bill de Blasio, Goldman Sachs has pledged not to spend any money on political advertising, The Times reported this morning.
Following weeks of discussion, Mr. de Blasio helped usher in the promise, which is meant to limit the behemoth's influence following the Supreme Court's "Citizens United vs. Federal Election Commisssion" decision. The commitment not to campaign came in the form of a policy statement on the firm's website.
As The Times diplomatically put it, Goldman is "not usually known as an ally of grass-roots causes," and the decision seems to be motivated by a desire for good public relations, something that Wall Street now considers to be important.
Goldman can still influence races through its PACs, of course, and following the Senate's decision last week to block the DISCLOSE Act, which would have forced a funding declaration in political ads, there's no way to know if they'll actually stick to this commitment.
We reached out to Mr. de Blasio, who said via email that, with the failure of DISCLOSE, such agreements are more necessary than ever.
In the aftermath of the DISCLOSE Act's failure to pass the Senate, it's clear that we can't rely solely on congressional action to protect us from the impact of the Citizens United decision. Our effort with Goldman started with the grassroots — folks speaking out and demanding that they do the right thing and agree not to take advantage of new opportunities to flood our campaigns with corporate dollars. We need to press more companies to follow Goldman's lead and commit to being good corporate citizens by not flooding our elections with money from their treasury.
Mr. de Blasio has pushed for greater transparency from Goldman in the past, urging them to set an example as industry leaders, and this new pledge would seem to be a new beginning in his relationship with the bank. Earlier, he may have paved the way for this agreement by opposing any new tax on bonuses, distancing himself from the WFP and John Liu.