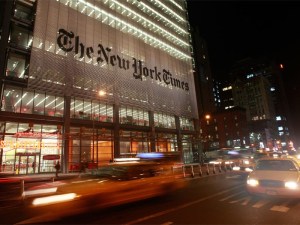 New York Times business editor Larry Ingrassia, a Journal alumnus himself, announced today that Wall Street reporter Susanne Craig would be joining the Times business desk from the Wall Street Journal.
Ms. Craig will be contributing to the business section in print and blogging online for Andrew Ross Sorkin and Jeff Cane's increasingly well-staffed Dealbook blog. Dean Starkman, who was first with the news this afternoon, noted that Ms. Craig led the Journal's coverage of both Lehman Brothers' and Merrill Lynch's collapse, and she was a finalist for the Pulitzer Prize in 2009. Ms. Craig had the lead byline on the Journal's 2008 article "The Weekend Wall Street Died." She's also Canadian.
Ms. Craig follows former Journal coleague, private equity reporter and practiced blogger Peter Lattman to The Times to work on Dealbook. The Journal reported in June that Mr. Sorkin had the go-ahead to hire as many as a dozen new staff for the blog.