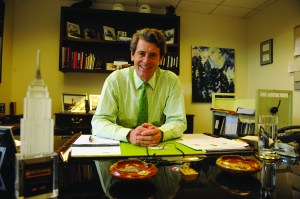 This past spring, Anthony Malkin, president of Malkin Properties and an owner of the Empire State Building, started paying attention to an office tower planned by Vornado Realty Trust. The giant office landlord was seeking approvals to build a tower up to 1,216 feet high two blocks to his building's west, on what's now the site of the Hotel Pennsylvania, at 33rd Street and Seventh Avenue.
The tower's height, to Mr. Malkin, was worrisome, so he researched the issue and fired off a letter to the City Planning Commission, raising concerns about the effect it would have on views of the landmarked Empire State Building. The letter had no impact: The commission voted to approve Vornado's tower without major changes.
Now, with the skyscraper poised to clear a final hurdle before a key City Council committee next week, Mr. Malkin is rushing to round up critics of the tower—and supporters of the Empire State Building's unique place in the skyline—in an attempt to urge the Council or Vornado to scale back.
And while many civic groups and elected officials have generally been supportive of the new tower so far, Mr. Malkin has caught at least a bit of traction: On Tuesday, the New York Landmarks Conservancy decided to speak out about the tower on account of the effect on the Empire State Building; and other civic groups are considering similar actions.
"What this does to New York City, we think, is wrong," Mr. Malkin told The Observer Tuesday. "It just boggles the mind that people would allow this to be done to the skyline of New York City. Is this our persona: cold; impersonal?"
FOR EIGHT DECADES, the Empire State Building has dominated the public's perception of New York City's skyline. Not only is the Art Deco tower the city's tallest, but its aesthetic supremacy is compounded by its location: At 34th Street, it is south of the skyscraper fray of central midtown, making it a tree amid the plains of midtown south.
Two blocks west and one block south, Vornado—an office space titan headed by its forceful, Bronx-raised chairman, Steve Roth—has its own vision for the skyline, and it's somewhat different. For more than a decade, Mr. Roth has been scooping up property after property around Penn Station, guided by the hope that when New York grows and needs new sites for office towers, they will blossom around the country's largest rail hub.
Mr. Malkin is not one to bite his tongue: He fought with City Council Speaker Christine Quinn in June over his refusal to honor Mother Teresa by lighting the Empire State Building for what would be her 100th birthday.
Chief in this vision is a would-be office tower to rise in place of the cramped and dingy Hotel Pennsylvania—a Pelli Clarke Pelli-designed skyscraper that would, as currently envisioned, rise from a boxy base like a slightly tapering glass obelisk, soaring to 1,216 feet (or 1,190 feet, under a second design). Given that this would put it just 34 feet shy of the Empire State Building's peak (the antenna is not counted in the height), the tower, named 15 Penn Plaza, would be a formidable visual rival from afar and on postcards.
Hence Mr. Malkin's apprehension.
Mr. Malkin, the scion of a four-generation real estate empire, is not one to bite his tongue. He got into a public spat with City Council Speaker Christine Quinn in June when he refused to honor Mother Teresa by lighting the Empire State Building for what would be her 100th birthday. Earlier this week, The Wall Street Journal quoted him as calling green-design standards "bullshit" for being too lax. And, in 2007, with landlord Douglas Durst, he took out newspaper ads that publicly criticized the state for building the Freedom Tower at the World Trade Center, a move akin to a campaign his grandfather Lawrence Wein led with Mr. Durst's father when the original twin towers were planned (those towers bested the Empire State Building as the city's tallest).
He first came to be involved with 15 Penn Plaza when Vornado began shepherding the plans for the tower through the city's seven-month-long public-approval process, which concludes with the vote by the City Council this month. The size of the tower caught him off-guard, he said. He began to round up consultants and push for changes, including at the City Planning Commission, given that such a building so close by would significantly change the skyline.
"We're not talking about preventing tall buildings in New York," Mr. Malkin said. "The question here is this tall building here in New York, being approximately 800, 900 feet away from the Empire State Building, crowding the distinctive skyline of the city."
He is no fan of the design—he likened it to "an undersea ICBM"—and sees a decision on the tower as a historic one, saying it is "akin to the loss of Penn Station."
As for what's driving Mr. Malkin, it seems to be a transparent self-interest. He views himself as a guardian of his building's place in the skyline, and, as such, he is protective of anything that might encroach on that. If there are financial motivations-and Mr. Malkin says there are not-they are not obvious (although he has raised concerns that the new skyscraper would interfere with his building's radio tower). The Vornado tower and the Empire State Building would compete for two different types of tenants; namely, those willing to pay high rents for modern space at the Vornado tower (banks and the like), and those who can't. Tenants at the Empire State Building include the FDIC and nonprofits like Human Rights Watch, for instance.