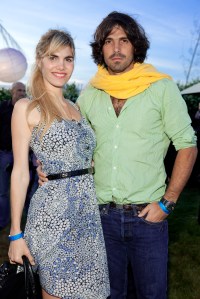 The prince most often associated with polo is Harry, but at last night's private screening of Secretariat in Wainscott, the prince getting all the polo players' attention was Rare Prince, a handsome chestnut steed and a great-grandson of the triple-crown winner whose story the soon-to-be released Disney film chronicles. The kind-eyed horse, a former racehorse in his own right, acted as screening prop waiting patiently in the driveway as children of guests petted him—among them NBC chief Jeff Zucker's son, who attended the screening with his father.
Nicolas Roldan, this year's polo paramour and rumored beau of equestrienne Georgina Bloomberg, arrived at the event with Lupe Roldan and greeted Delfina Blacquier warmly in Spanish.
"I still have one more tournament, but it's a low-goal tournament in Southampton," the Argentina-born horseman told the Transom in an unmistakably American accent. "Then I'm off to South Carolina and then to Argentina."
What have been the highlights of the summer?
"Everything. I love it out here. The weather has been beautiful and the polo's been fun." Roldan, who calls Palm Beach home, lives with sponsor Michael Barico while mallet-wielding on the east end.
Montauk veteran Dick Cavett made his way to the makeshift car park in the backyard of the private home on Goose Creek Road.
The Transom stopped him to ask if and how the fishing village has changed over the years.
"Not at all," Mr. Cavett deadpanned. "It's just the same little sleepy village of fishermen that it always was, sort of like Sleepy Hollow. There are no glitzy people there, no schmucks from Southampton. It's sort of a Brigadoon really."
"Now do you wanna really know?" the New York Times blogger smiled mischeiviously. "I'm sorry to see it change. It was a nice quiet place when I first came there. I know that Richard Nixon would be upset because when he came out here years ago he said, 'I'm glad I'm not in Southampton or East Hampton but in Montauk where the real people are.' Now they aren't all real people," the former talk show host paused, "but they're more real than Richard Nixon."
"If you don't wanna use Nixon's name you can say the great unindicted co-conspirator."
Over his shoulder as he walked away the former Tonight Show writer added, "you might Google some of my pieces on Nixon."
Handsome polo mascot Nacho Figueras wore his uniform of a cashmere cableknit draped over the shoulders of his button down, artfully unbuttoned to his sternum and tucked into belted dark wash jeans. He informed the Transom of his post-Hamptons polo season itinerary. "We're here one more week. I do my charity polo game on Sunday and then back to Argentina. On October 10 I'm playing a match in LA, sort of an exhibition like the thing in New York with Prince Harry, at the Will Rogers estate, where we're going to raise money for the Will Rogers Park." He combed his hair behind his ears before continuing, "so Argentina, LA, back to Argentina, then Australia and then Florida."
Will Mr. Figueras' blonde wisp of a wife and three young sons be joining him on his travels? "They always come with me. They probably won't go to LA because it's a short trip, but they come everywhere else with me. I love to be with them."