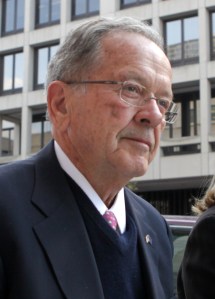 A 1957 DeHavilland DHC-3 Otter carrying eight people crashed on Monday night 20 miles north of Dillingham, Alaska. Former Senator Ted Stevens, 86, is believed to have been on board — he was traveling in the area yesterday — and reports from people on the scene of the crash indicate that there are survivors. Mr. Stevens was on his way to a lodge owned by the communications company CGI. The plane was also owned by the company.
From the Anchorage Daily News:
Friends of former U.S. Sen. Ted Stevens said he was traveling Monday to the GCI-owned Agulowak Lodge near Lake Aleknagik, and they were concerned for him.

A woman who answered the phone at the Anchorage home of retired Air Force Gen. Joe Ralston, a good friend of Stevens, said Ralston was with Stevens' wife, Catherine, comforting her and trying to find out what was going on.

No one answered the phone at the homes of Stevens' daughter, Susan Covich, in Kenai, or his son, Ben, in Anchorage.