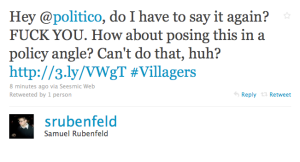 Dow Jones Newsletters reporter Samuel Rubenfeld is displeased with Politico over an article about a recent deal in the Senate.
"Hey @politico," he wrote on his Twitter account this afternoon, "do I have to say it again? FUCK YOU. How about posing this in a policy angle? Can't do that, huh."
We emailed Mr. Rubenfeld to ask if he had anything to add. He didn't. Attitude reflects leadership.
UPDATE: "This is my personal Twitter," Mr. Rubenfeld wrote in a later email.
(h/t Azi Paybarah)