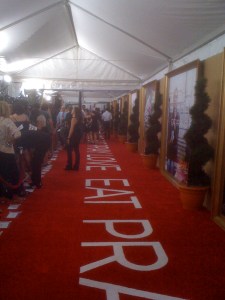 "I don't have as much estrogen as this storyline does," David Lyons, the Australian actor who plays Ian in the Eat Pray Love adaptation, said last night on the red carpet of the film's premiere at the Ziegfeld.
Then Lyons backtracked for a second. "And that's not a bad thing-it's about rediscovering yourself."
The celluloid version of Elizabeth Gilbert's memoir may be all about rediscovery, but last night was about promotion-as if any more were needed. The book, after all, has been selling at an astounding clip since its release, and the posters greet you at every street corner.
Maybe that's why the stars were slow to come. At first, Julia was nowhere in sight, Javier would be a while, and James Franco wouldn't even bother showing up.
The evening's real guest of honor, however, may have been Elizabeth Gilbert, the writer who fashioned herself as the central figure of her astoundingly popular book. Not only did she conceive of the project, but she also had the honor of walking into a theater where lucky ticket holders would spend two hours watching the wish-fulfillment of her tri-pronged globetrotting fantasy-all of which is now re-enacted by Julia Roberts. We can only hope a sequel will depict her being fêted by Oprah, seeing her paperback clutched by disillusioned women the world over, and attending the premiere of a summer blockbuster that features herself as the protagonist-in New York, the city that drove her abroad in the first place.
Eventually there were screams and shuffling at the front of the red carpet, so everyone followed suit and slipped their Blackberrys back into their pockets and paid attention again. James Brolin emerged with a shaggy goatee, and gave featured Eat Pray Love actor Mike O'Malley a fierce bro hug.
"We did a project together, The People Speak-he's a real inspiration to me," O'Malley, who just scored an Emmy nomination for his guest spot on Glee, told me, as if a simple hug between two ruggedly attractive men needed any explanation. "He said the same things about me, I'm sure."
Javier Bardem-who plays love interest Felipe in the film-strolled by, doing his best to avoid any sort of human contact, and soon after came Julia Roberts, her eyes locked firmly toward the ground as she walked, flanked by a squad of guards.
The third in line was Gilbert herself, and the real Liz attracted nearly as much attention as the actress playing her. She was beaming-it was hard to imagine this woman desperately in need of sustenance, scripture, and/or sex. She left the onlookers with little more than a smirk and made her way into the theater.
Luckily, guest Russell Simmons was not in as much of a hurry. He stood unfazed amid an onslaught of cameras and recorders and rattled off his new favorite rap albums. So, he was asked, have you ever had an Eat Pray Love experience of your own?
"I don't know," he said as he walked up to the end of the red carpet, his white Yankees cap turning away. "I haven't seen the movie yet!"