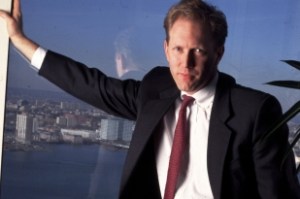 Two weeks after raising $3 million of new venture capital, Business Insider founder Henry Blodget is hunting for a new editor-in-chief to oversee the site's tech vertical. In an announcement today, Mr. Blodget said that SAI's deputy editor Dan Frommer will be "retiring from editing" SAI and will write full-time, while Nicholas Carlson, who was a senior editor of SAI, will become deputy editor of the entire Business Insider site. In that role he'll write investigative stories and work on creating new verticals.
Mr. Blodget said in an email that Mr. Frommer and Mr. Carlson have been co-editing SAI for the past six months or so. Under the new arrangement, Mr. Carlson will work alongside Business Insider's existing deputy editor, Joe Weisenthal, and the two will split duties along verticals, with Mr. Weisenthal running Wall Street and economics, and Mr. Carlson overseeing SAI, The Wire, and BI's strategy and tactics site.
BI will be hiring "a bunch more people" in the coming months, including a media editor. "We have had this expansion planned for a while, and the funding we raised last month will allow us to do it faster than we would otherwise have been able to," Mr. Blodget said.
In his post this morning, Mr. Blodget described what kind of person he's looking for in the post. "Please don't send us folks who want to recreate a newspaper or magazine online," he writes. "If we wanted SAI to be a newspaper or magazine, we'd have made it one."