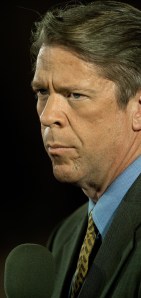 The National Journal announced yet another high-profile hire earlier today: chief White House correspondent Major Garret from Fox News.
National Journal editor-in-chief Ron Fournier called Mr. Garrett the embodiment of the team he's building in Washington, "a fierce competitor on his beat, and a good and decent man."
Earlier this week, Mr. Fournier scooped up Washington veteran Matt Cooper. Mr. Cooper had very nice things to say about his new bosses — Mr. Fournier and editorial director Ron Brownstein — and so did Mr. Garrett in a release this afternoon.
"The highest compliment in this business is: 'I wish I had written that,'" said Mr. Garrett. "I've said that more times than I can count about National Journal reporting and the work of Ron Fournier and Ron Brownstein."