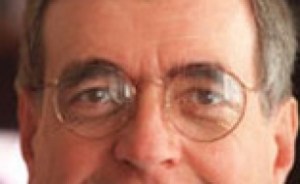 Former New York Times ombudsman Clark Hoyt has landed a job at Bloomberg's Washington bureau.
The bureau has been expanding rapidly in the last year and now has more than 140 staffers (three times as many as The Times has in D.C.), Michael Calderone wrote last year. Mr. Hoyt will help mold the expanded bureau and report directly to editor-in-chief Matthew A. Winkler. During his three years at The Times, Mr. Hoyt's relationship with executive editor Bill Keller was necessarily contentious but light-hearted. In his goodbye note, Mr. Hoyt recalled that Mr. Keller would compare their weekly meetings to a proctology exam.
Arthur Brisbane replaced Mr. Hoyt at The Times in June.
(h/t Joe Pompeo)