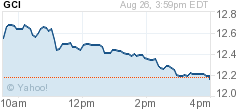 USA Today publisher Dave Hunke is cutting 9 percent of his staff and shuffling the executive deck at the paper. "This gets us ready for our next quarter century," Mr. Hunke told the Associated Press.
It's still unclear which sections of the operation will be hardest hit, although it looks like 130 people will be out of a job.
Gannett (GCI) Co. Inc. issued a release late last night, explaining that the paper is transforming into a "multi-platform media company." The paper's sections are being reimagined as "content rings."
In the release, Mr. Hunke announced four new executive appointments. They are all internal hires. One of the freshly minted vice presidents, Rudd Davis, who was named vice president of business development, caught some flack on the Gannett Blog (the official unofficial blog about what goes on inside the company) for being 29 and graduating from Bard. The blog posted a photo from Facebook of Mr. Davis and friends wearing brightly colored bracelets and looking less than their best.
Gannett's stock price is down nearly 80 percent in the last four years.