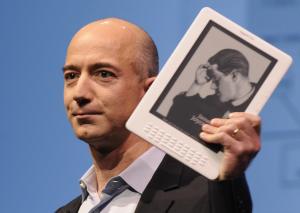 The Wall Street Journal reports that a Marketing and Research Resources study of Kindle, iPad and Sony Reader owners—ahem, paid for by Sony—indicates that these electronic libraries are somehow convincing people to read more books. Of the 1,200 device-owning people surveyed, 40 percent said they are reading more now. It's a bit of good news in light of the 2009 study by the National Endowment for the Arts, which discovered that half of American 18-to-24-year-olds read no books for pleasure.
And they're not just reading snuggled up on couches, either! The extreme e-reader devotees are taking the things on boats.
Since getting her Kindle last year, Leslie Johnson has been reading more often and in more places—like on a kayak. On a recent trip, the 34-year-old engineer from Albany, N.Y., settled into a science-fiction novel while her husband fished. "I put it in a waterproof cover," she says.
The article also mentions a study conducted by Jakob Nielsen, a longtime Silicon Valley researcher, that discovered that though they read more, those who choose pixels over ink also read slower. But the study had one variable could have been disruptive: it required participants to read in print, then an iPad and a Kindle, but the only author represented in the study was Ernest Hemingway. Perhaps that bare-bone prose just doesn't play out as well on these electronic gadgets, causing readers to slow down? Well, Papa would probably disapprove of the whole business, anyway.