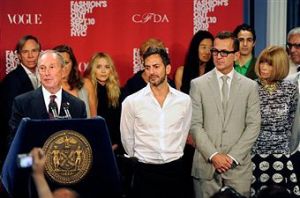 Mayor Michael Bloomberg was by far the least fashionable person at the City Hall press conference for Fashion's Night Out on Wednesday, Aug. 11.
"No doubt all of you out there feel incredibly excited and privileged to be in the presence of fashion greatness and it's nice to have some of the other stylish people up here with me as well," said the mayor, wearing a bland navy suit in the Blue room. "That was supposed to be funny. You guys are supposed to laugh at that."
The mayor was flanked by a bevy of fashion industry bigwigs. Tiny Mary-Kate Olsen, of the Row, seemed to disappear behind Marc Jacobs, who was wearing a kilt. Vera Wang stood in the back of the cluster next to Carolina Herrera. And Anna Wintour—the queen mother of it all—seemed in a rather jolly mood. Silent throughout the press conference, she smiled at the mayor's awkward self-deprecating jokes and even laughed at a question a reporter asked about the fashion industry's penchant for leaving Town cars idling on the street.
Before the event started (a half an hour late), members of the press lingered in the marble lobby as the fashion elite were shuffled through. The celebrities had to leave their drivers at the curb and walk in their stilettos to the entrance. Ms. Wintour entered with minimal drama and quickly moved out of sight. "Excuse me!" an escort said, as she she pushed a photographer's backpack aside so Ms. Wintour could get through unscathed.
Ms. Wang was the first in and looked confused when asked to stand alone against the red backdrop. Tory Burch then joined her, but were placed on the opposite side. "You look lovely down there," Ms. Burch called out to Ms. Wang.
At the conference the mayor performed the appropriate plugs for the event. This year nearly 1,000 businesses are participating in Fashion's Night Out on September 10! There is going to be the largest public fashion show in New York City history on September 7! It will feature fall trends as picked by Ms. Wintour and Vogue! It will be at Lincoln Center, which, don't forget, is the new home of Fashion Week! And CBS is broadcasting it online!
"If you are addicted to shows like Project Runway then this is your chance to get close to the action," he said of the fashion show.
As the press conference went on Ms. Wintour seemed trying to hide behind the designers as much as possible. She kept her head low for most of it and would lower it even further whenever her named was mentioned, and it was mentioned frequently.
"I will say this never would have happened without Anna Wintour and Diane von Furstenberg," the mayor said early on during the event. "I remember when they came to me and said 'you're going to do this.' I may be dumb, but I'm not stupid and I certainly listened to them. It was a great idea but it turned out to be an even better idea than all of us thought it was going to be."
Mr. Jacobs, kilt shining and earrings glittering, was the only designer to speak at the conference. The other speakers included the less glamorous CEO of Saks and the CEO of NYC & Company. Mr. Jacobs reminisced about appearing at his Mercer Street store at last year's Fashion's Night Out.
"It took me about two hours to get two blocks because I was stopped every single minute by people who were out on the street for Fashion's Night Out," he said. "What it felt like to me for any of you who grew up here or know New York City, it felt like a block party and it felt like a sense of community and it felt like what I think fashion shopping is all about, which is a social ritual that people enjoy."
After taking questions, mostly city-related (the mayor thinks it's "great" that Condé is moving to 1 W.T.C.), from reporters, the crowd was asked to pose for photos. Ms. Wintour was forced to stand in the center next to the mayor. The celebrities then dispersed with as little fanfare as possible. The Transom managed to catch Ms. Wintour as she exited to ask if she'd made her own itinerary for the night of Fashion's Night Out.
"No no, not yet," she said in her British accent. "I'm going to do it the week before, but last year I made eighteen stops."